Insurance enrollment, free youth therapy and meals, vets remembered
Kids for Colorado Gives
Colorado Gives Day is Tuesday, December 7. As part of the annual day of giving to Colorado nonprofits, parents can teach their children the joy of charitable giving. Through the Kids for Colorado Gives site, www.KidsforColoradoGives.org, kids can learn "What is a nonprofit?" and "Why do nonprofits need donations," do activities in the free Giving Kit, and search and donate to causes that most interest them in their community. To donate, children need to ask their parents/caregivers to purchase a Giving eCard and send it to them. Once they have a Giving eCard, the kids can search for nonprofits by name/keyword or by cause and then donate.
Colorado health insurance enrollment now open
Colorado residents can now enroll in health insurance for 2022 through Connect for Health Colorado, the official health insurance marketplace for Coloradans. The American Rescue Plan provides financial help for health insurance and makes health coverage offered through Connect for Health Colorado more affordable. Open enrollment runs annually from November 1 through Jan. 15. During this time, anyone can enroll or make changes to their health insurance. However, for coverage to begin on January 1, action must be taken by December 15, 2021. To learn more and enroll, visit www.connectforhealthco.com.
Free prepared meals in Greeley and Loveland
The Colorado Food Cluster provides free fully prepared meals for Colorado children and youth in families that are having a hard time during the current public health crisis. Meal boxes are free to any student 18 and under and each box includes seven breakfasts, seven lunches and fourteen snacks, plus milk and orange juice. Currently, deliveries are made within 20 miles of Greeley, and expanding soon to new areas. No proof of income is required–only basic information about parents and their student.
Thompson School District families can pick up a KidsPak bag at Loveland Public Library, 300 N. Adams Avenue, or Berthoud Community Library, 236 Welch Avenue. Each bag contains enough food for six meals and families with more than one child are eligible for two bags each week. In Loveland, snacks are also available to all youth ages 0–18 (up to grade 12) during all business hours, in the library teen space.
If you are experiencing food insecurity or know someone who is, additional resources are available at Food Bank of Larimer County or Weld Food Bank.
Free therapy sessions to all Colorado youth
Funded by the Colorado Department of Human Services Office of Behavioral Health, the I Matter program  is a "temporary behavioral health services program to provide access to mental health and substance use disorder services for youth, including addressing needs that may have resulted from the COVID-19 pandemic." The program provides up to three free sessions for youth 18 years of age or younger or 21 years of age or younger if receiving special education services, and reimburses participating providers, which are licensed clinicians from agencies and independent contractors.
Rental assistance
Larimer County Commissioners recently unanimously approved an amendment to the county's rental assistance grant program agreement, agreeing to use $1.5 million in funds now that were originally set for the program's second phase. The Colorado Emergency Rental Assistance Program distributes federal funds to counties and municipalities to help prevent evictions in the wake of the COVID-19 pandemic and the associated economic result. The funds are handled in Larimer County through Neighbor to Neighbor. For more information on the program, as well as ways to sign up for rental assistance, visit the county website  or Neighbor to Neighbor's website or call 970-829-0296.
Donations needed for Berthoud Adaptive Park
Colorado-based nonprofit Can'd Aid is raising funds to build a fully accessible public playground in Berthoud. Berthoud Adaptive Park was inspired by the needs of a Berthoud family, Lauren and Richard Bowling,  and their four-year-old son Miles, who is dependent on a wheelchair for his mobility and independence. The Bowlings found the closest accessible playground is 40 minutes away in Fort Collins and began to envision an inclusive playground for children and parents with a wide range of disabilities—a complex and expensive project. Learn more about their story, the project and donate. The Braly Family Foundation will match up to $25,000 in donations through December 31. All donations will be used to create as many accessible and inclusive options as possible. Can'd Aid is organizing fundraising efforts and also plans to host community events to provide volunteer labor when appropriate.
Winter reading challenge
High Plains Library District is promoting a family-focused at-home reading and activity challenge for winter break exploration from December 17 through January 2. Join in to help YES!bot complete a micro-cosmic rescue mission to inner-space. Activity logs and science toolkits will be available starting December 10, while supplies last, with toolkits limited to one per household. Return completed logs for prizes by January 9.
Wreaths Across America
The nationwide Wreaths Across America program will again be presented at Linn Grove Cemetery in Greeley to honor departed veterans and first responders. Volunteers are needed Saturday, December 18 at 10am at 1700 Cedar Avenue to help place fresh evergreen wreaths on the 1,860 graves. No registration is necessary. Wear warm clothes including gloves. You can also learn more and support the event by sponsoring a wreath for $15 each.
New Berthoud rec center
Berthoud celebrated the grand opening of the Berthoud Recreation Center
at Waggener Farm Park. Located on 32 acres adjacent to the Loveland Reservoir, the 50,000-square-foot building at 1000 North Berthoud Parkway has been under construction since 2020. The facility features fitness areas, an indoor aquatics center, two-court gym and more. Outdoors, just south of the facility, visitors will enjoy multi-purpose athletic fields, trails and community open space, a large destination playground with a full basketball court, a rentable pavilion and a skate park. Visit www.berthoud.org/departments/parks-recreation to learn more.
Trail etiquette reminder
Please remember the following trail etiquette this winter. Check COTREX or the Larimer Natural Areas website for updated trail conditions or closures. Check the parking lot cameras before you go to determine availability and bring extra layers as weather can change quickly. If you come across mud on the trails, go through the puddle and not around to prevent trail widening and preserve the natural spaces.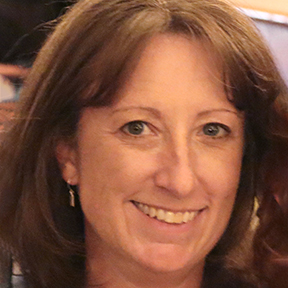 Theresa is a senior-level marketing professional with substantial experience in developing and executing integrated campaigns including communications (articles/newsletters/brochures), PR and social/trade events. She earned a marketing degree from CSU and lives in Fort Collins with her husband and two children.