School supply resources, online predators caught, rent assistance, new trail
Greeley child enticement operation results in eleven arrests
A joint task force operation conducted in Greeley in June, in correlation with the Greeley Stampede visitor influx, resulted in 11 arrests for charges related to sexual exploitation of children. According to the media release, "The suspects were attempting to arrange sexual encounters with a juvenile after responding to ads that were placed on websites commonly perused by suspects seeking illegal sex acts."
As a result of the operation, the Greeley Police Department reminds parents to "monitor what your children are doing online and whom they are speaking with to prevent kids from becoming a victim." Have discussions with your children about the dangers of online predators and ask your kids to speak to an adult if they feel they are being targeted.
Larimer Emergency Rent Assistance Program
Larimer County has Emergency Rent and Utility Assistance (ERAP) funds to help people stay in their homes by paying back rent and utilities. If you experienced financial hardships due to COVID 19 pandemic, you may qualify to receive payments and there is no need to pay it back. Funds are available through September 2021 and certain guidelines are required to receive payments. Larimer County partnered with Neighbor to Neighbor to process applications. Learn more and apply online at www.larimer.org/erap#larimercounty or call Neighbor to Neighbor at 970-829-0296.
School supply resources & donation opportunities
Several local organizations are supporting economically vulnerable students with backpacks and school supplies for the 2021-2022 school year. Learn more about donating or locating resources if your family needs assistance:
CSU's School is Cool program supports K-12 Poudre School District students with backpacks and supplies. Donations are accepted year-round online or by mail or you can bring in supplies. Visit https://schooliscool.colostate.edu to learn more or sign up to volunteer time August 3–5 to sort supplies, stuff or deliver packs. If needing assistance, make requests at your students' particular schools.
Greeley-Evans School District 6 will host the annual School Kickoff Community Celebration to provide high-quality backpacks filled with school supplies, community booths with resources and giveaways, free sports physicals and free sack lunches for every child, ages infant through 18. The event takes place Saturday, August 7 from 10am until 1pm at Island Grove Regional Park, 501 N. 11th Avenue. Learn more at www.greeleyschools.org/Page/15778.
The Thompson Education Foundation (TEF) Help Kids Succeed program accepts donations year-round by mail or online. Learn more at www.thompsontef.org/help-kids-succeed. Make requests at the school where your child is registered during open school hours. If you have students in different schools, you must go to each school.
City of Greeley Mosquito Control
Greeley area officials are reminding residents that water in city-owned parks, ponds and open spaces is treated to eliminate mosquitoes before they hatch, and crews spray for adult mosquitoes as needed every week until fall when temperatures get close to freezing. The population of the mosquito species typically carrying West Nile virus typically increases in late summer. Protect yourselves by wearing treated clothing, long pants, long-sleeved shirts, socks and shoes when outdoors, especially from dusk until dawn when mosquitoes are most active, as well as applying bug repellant products with DEET. Residents can reduce mosquitoes by eliminating standing water on or near their property. To report mosquito issues, call the city's mosquito contractor at 303-428-5908 and to learn more about the program, visit http://greeleygov.com/mosquitoes.
Help end overdose deaths
Join the Northern Colorado Harm Reduction Alliance and the Northern Colorado Health Alliance for their Annual Overdose Awareness Day events. As a way to Respect, Recover and Remember, attendees will enjoy breakfast burritos, remembrance activities, yoga, lawn games, massages and more. On Sunday, August 22 from 10am until noon, visit the Estes Park Marina Shelter at 1798 Big Thompson Avenue or the Fort Collins Eldora Park Shelter at 1420 E. Stuart Street. On Sunday, August 29, the event will take place at Greeley's Island Grove East Shelter at 501 N. 14th Avenue from 10am until noon. Learn more at www.nocooverdoseawareness.com.
Poudre libraries offering Phone-a-Story
You can now call the library 24/7 to enjoy a good story! The Poudre River Public Library District is offering Phone-a-Story for all ages featuring a new story, song, or rhyme in English, Spanish and French each week. Call in and listen anytime, as many times as you want, to 970-829-1301 and follow the directions. Learn more at www.poudrelibraries.org.
Middle school workforce development program
Boys & Girls Clubs of Larimer County (BGCLC) partnered with Poudre School District (PSD) this summer to provide a comprehensive, workforce development program dedicated to serving middle school students. Approximately 50 PSD students participated in the 9-week program intended to give them hands-on experiences and exposure to different career paths. Each week a different industry such as technology, energy, construction, healthcare, hospitality, etc. was featured. Students met experts in the field, toured locations and applied skills learned in hands-on simulation activities. The program was free for students, included meals, and ran Monday through Friday, 8am through 5pm. Stay informed about future opportunities by visiting www.begreatlarimer.org.
New trail in Southwest Weld County
The new Weld Legacy Trail officially opened last month, extending from the Southwest Services Complex at 4209 County Road 24 ½ in Firestone under Interstate 25 into St. Vrain State Park. Designed by the Weld County Department of Public Works, the near mile-long trail is "the culmination of years of planning and partnerships, along with several months of design work and renovations to make the trail more user friendly and resistant to flooding." It features an 802-foot new section moving the trail away from a nearby spillway plus an 82-foot long pedestrian bridge. Learn how it came to be by visiting www.discoverweld.com.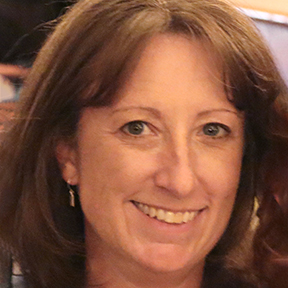 Theresa is a senior-level marketing professional with substantial experience in developing and executing integrated campaigns including communications (articles/newsletters/brochures), PR and social/trade events. She earned a marketing degree from CSU and lives in Fort Collins with her husband and two children.